The Mastercard Foundation e-Learning Initiative Project through the Kwame Nkrumah University of Science and Technology (KNUST) E-Learning Centre has commenced a two-week residential Masterclass and Content Creation Training on developing high-quality online and blended courses for faculty. The third and fourth cohorts of the training workshop was attended by eighty-five (85) participants, with forty-nine (49) from sister institutions and affiliate institutions.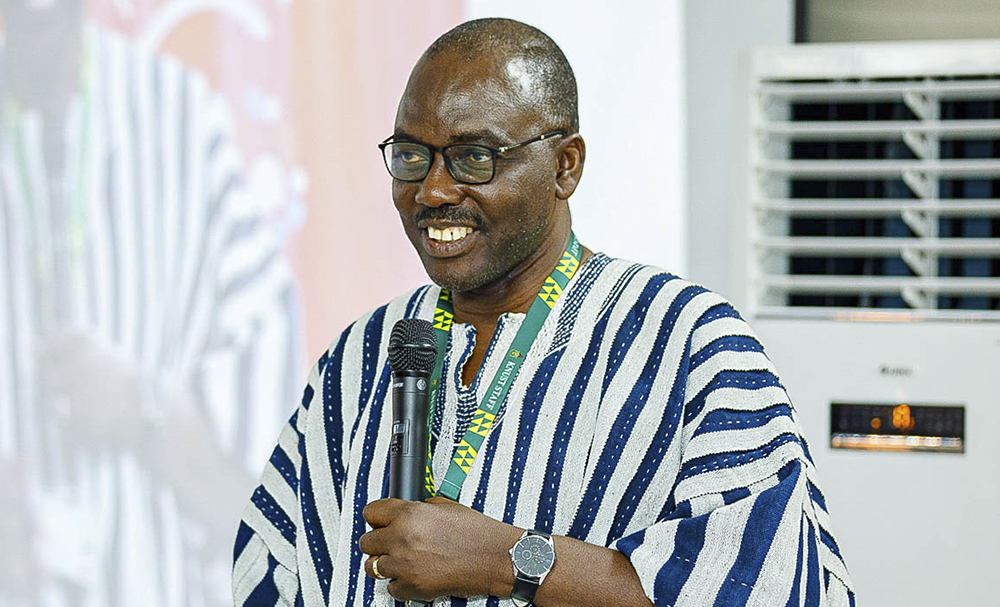 Opening the second event in the Masterclass and Content Creation Training series, the Chairman of the Executive Board of the MasterCard Foundation Scholars Programme and Former Vice-Chancellor of KNUST, Professor William Otoo Ellis, stated that technology and its application has become an integral part our everyday life. He further said, the development and application of technology is even more dominant in the field of higher education. According to Professor Ellis, in the same vein, the challenges of higher education, especially in our part of the world also continue to increase. He said challenges such as high student numbers, issues of access, lack of requisite infrastructure, issues of logistics, limited exposure to new technologies, among others that confront higher education in Africa, made the Team respond to MasterCard Foundation, Canada's proposal to implement this project.  He explained that the key element of the project is focused on capacity building in e-learning. The focus is to build requisite manpower in our various institutions. The Former Vice-Chancellor said it is anticipated that on completion, participants will train or impact the knowledge to other colleagues and students, who will enhance the technological capacity of institutions and not to keep it to themselves.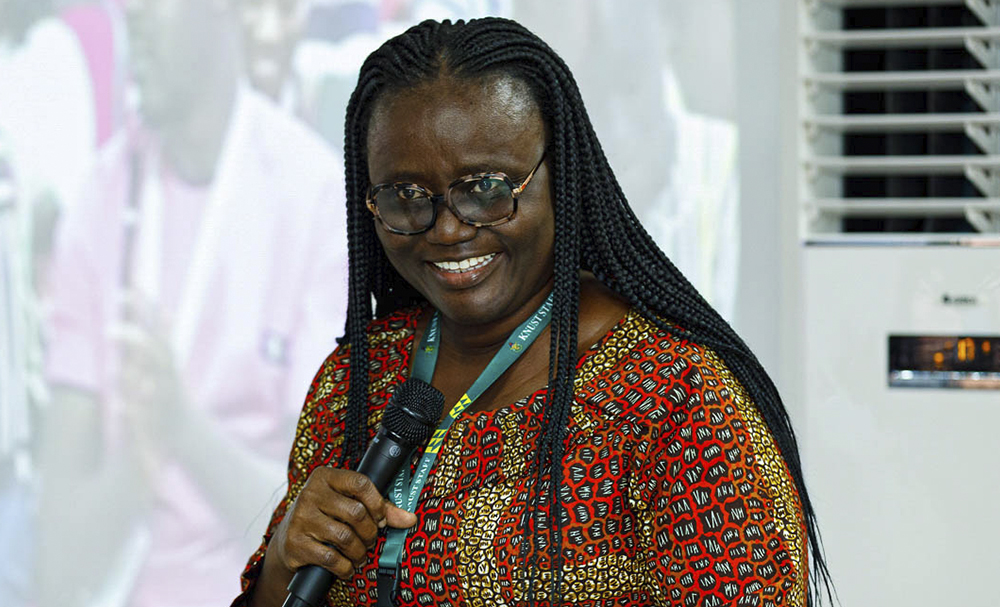 In her welcome address, the Vice-Chancellor, Professor Mrs. Rita Akosua Dickson, said the training marks another significant milestone in KNUST's efforts to prioritize the professional development of its faculty members and affiliates. She continued that the University is committed to equipping them with the essential skills and knowledge needed to continuously enhance the learning experience for our students.
Professor Mrs. Dickson noted that the Mastercard e-learning Initiative intervention was indeed a step in the right direction, particularly considering the challenges and lessons brought about by COVID-19 Pandemic. Giving a background to the project, she said KNUST started benefitting from this project in the year 2020 when some faculty members were trained as E-learning Champions as part of the project's target of building the capacity of one hundred instructors in Africa. Some of the Champions are currently assisting as facilitators in this workshop.
She said the second phase of the project focuses on providing capacity for the development of fit-for-purpose content for e-Learning. The development and deployment of content also means that faculty can effectively utilize the virtual classroom to attain their course objectives and desired outcomes. The Vice-Chancellor further said the content development training section, aims to ensure the necessary skills and knowledge to design and develop content that reaches all manner of learners, particularly those disadvantaged by facilities, geographical location and physical impairments. She was confident that in an era where traditional teaching methods are increasingly complemented, the expertise gained by faculty members will enable them to position themselves at the forefront of educational innovation and impact, which undeniably represents the future of education.
Professor Mrs. Rita Akosua Dickson revealed that one hundred and forty (140) faculty members are expected to be trained who will in turn train other faculty members in the effective utilization of online educational resources and innovative tools for knowledge creation and acquisition. She said KNUST shares these innovations with other institutions with the ultimate goal of positively influencing other educational institutions to make meaningful impact on the lives of students. She also stated that already 65 participants have undergone successful training in the first and second cohort of the training series, resulting in repurposing of their course content for online delivery and the utilization of the KNUST learning management System (LMS) and online educational resources.
Representing the Affiliations Office, Oluwakemi Titiloye, in her remarks commended stakeholders for organizing the training for the private universities, colleges of education and Ministry of Health Training Institutions affiliated to KNUST. According to her, some beneficiaries from the first and second cohorts have started training their colleagues in their institutions and have proposed setting up e-learning centres and called on management to support them.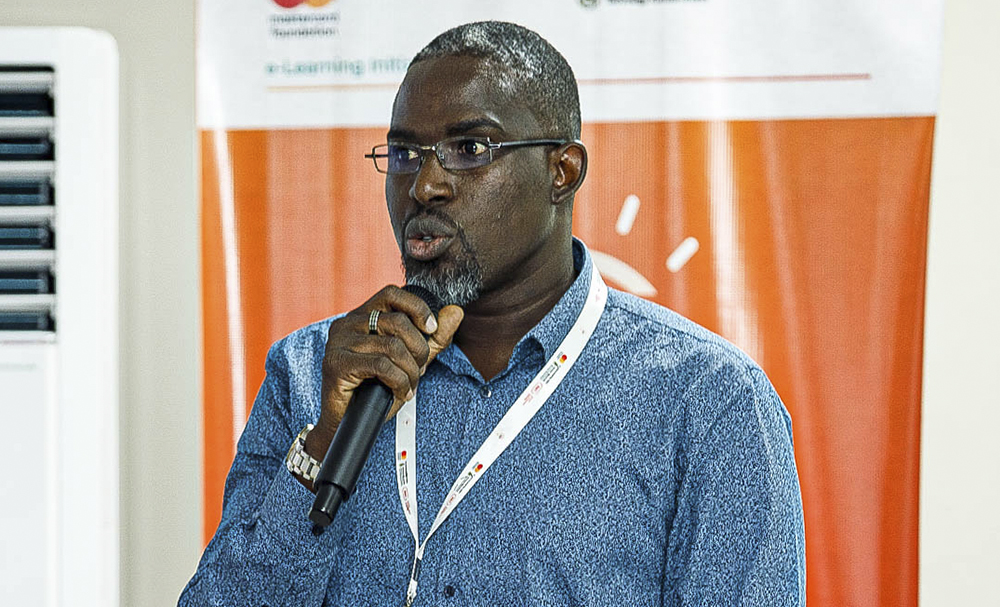 The Principal Investigator (PI) of the Project, Courage Julius Logah, thanked Mastercard Foundation for supporting e-learning implementation at KNUST. He also commended the lead institutions of e-learning, Arizona State University and the United States International University Africa, Kenya for providing the needed support for a successful take off and running of the entire e-learning initiative. Mr. Logah added:" We are building capacity of faculty to build a more resilient and robust online teaching and learning ecosystem at KNUST and its affiliated institutions, post – pandemic.
The Director of the E-Learning Centre, Professor Eric Appau Asante, reiterated that having an online pedagogy is important for participants aside their respective expertise in their disciplines and curriculum. He continued that in the context of e-learning education, creating quality and engaging content based on principles of effective designs, interactive and stimulating tools, flexible learning and support to students is critical. Dr. Apau Asante said participants will be trained in Instructor Prescence and Action Plan, Online Students' Success, Course Content and Quality, Effective Student Interaction, Course Design and Content Development as well as Question-and-Answer Sessions.
Joining virtually, earlier participants from the previous training, Grace Baligi and Prichard Debrah, shared their experiences with current participants.